Adventuring on a whim
When was the last time you did something spontaneous?
One of my favorite travel memories began on a leap of faith. We had driven through Chaminox (France) several times over the years but had yet to plan a winter weekend there. With year-round parasailing at the top of our list, we tend to call ahead, and the wind isn't cooperating, so we make alternative plans.
On this three week stay, we were in the area and decided it was finally time to plan a weekend getaway. It was early December, so I started researching the many outdoor ideas Chamonix offers. That's how I stumbled on a travel company specializing in outdoor adventures near Chamonix, Happy Tracks.
Rafael and Anja (at Happy Tracks) own a boutique hiking company and focus on making guests wishes come true. They are a millennial couple who left corporate living to live in the mountains. (photo above: Bill, Raphi, and Anja mid trek)
Visiting their website, we wanted to hike and spent the night in an igloo. Raphi asked us to let them plan the overnight, which would be dependent on snow.
Getting there
We borrowed a friends car and drove from Vevey to Chamonix. Renting ski's, getting settled, enjoying dinner and live music in the evening. The next day we would ski.
After a day skiing, we met Anja and Raphi for a two day adventure.
Part One: The boring part really... making introductions, getting settled and driving about an hour to the trail. Bill and I were wildly unprepared for this adventure. Bill was on a three week business trip, and I was working remotely.
I was dressed in layers of running gear and flannel, and Bill was wearing jeans.
We hiked for a few hours until we found snow and the mountain Refuge.
I love snowshoeing, it's my favorite winter activity, but this was a new experience for Bill. Imagine trying snowshoeing for the first time on a two day trek to Fiz Massif.... in jeans! When in Rome...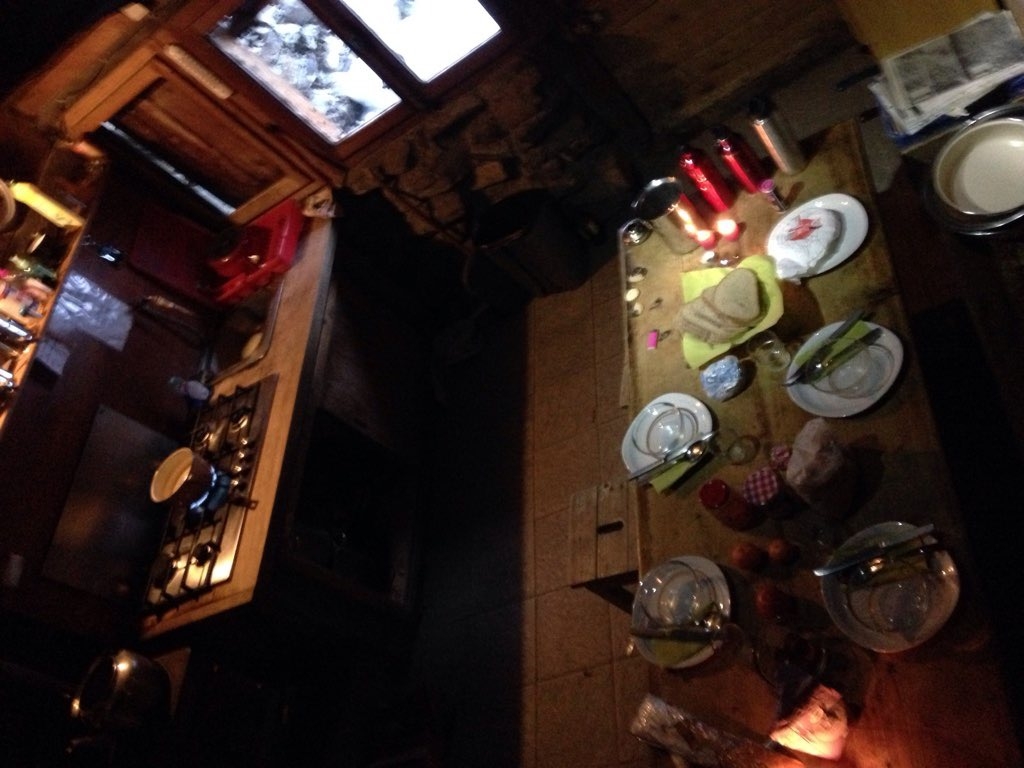 Above:
The Alps have mountain refuges for mountaineering clubs and some that are open to the public for safety.
Drinking water runs in the winter, collected in tree trunks for hikers to drink/boil.
I'm still dreaming of this refuge. The basic structure was filled with overnight supplies (managed by a mountaineering club)
We carried food in our packs. Cooked a meal, talked and played cards before climbing into the loft sleeping area.
Below:
I'm enjoying hot tea and lunch before strapping on snowshoes for an afternoon hike to Fiz Massif (2,965 meters).
The view from our hut, looking towards Switzerland
In the morning we enjoyed a warm meal and went for another snowshoe trek. Packing our gear, cleaning and locking up the hut before a quick descend and road trip back to Chamonix.
We had the most amazing experience. The next night we met friends in Vevey, enjoying dinner and we couldn't talking about this delightful weekend.